OneBags.cn tactical backpack, large 3-day assault pack, Army Molle Bug Out backpack
Description military tactical assault backpack small soldier anti-theft backpack rucksack rucksack rucksack rucksack suitable for outdoor hiking camping hiking hunting molle tactical backpack with molle system
classification: Neutral Structure
1. But MOLLE is a bit different from most tactical fakes and doesn't meet the specs.
2. Maurs is less than 1.27 cm apart.
3. Tactical Assistance Pack size approximately: 11 * 18 * 12 Inches/28 * 45.5 * 30 cm (width * Height * Depth)
4. CAPACITY: 40 Litres, not a big backpack.
5. Military backpack made of 600 x 600 density fabric, durable and waterproof
6. The shock pack features two-thread stitching, durable zippers and utility-style drawstring handles.
7.Side and front load compression system, comfort padded back area, breathable Mesh padded shoulder strap
8. Military backpacks are hydrating and are ideal for 2.5 liter Kettles (knapsacks do not include Kettles) as kettles or backpacking backpacks for outdoor camping.
9. This tactical attack pack can be used as a 3-day assault pack, emergency pack, combat pack, range pack, hunting pack, survival pack, rucksack or hiking pack.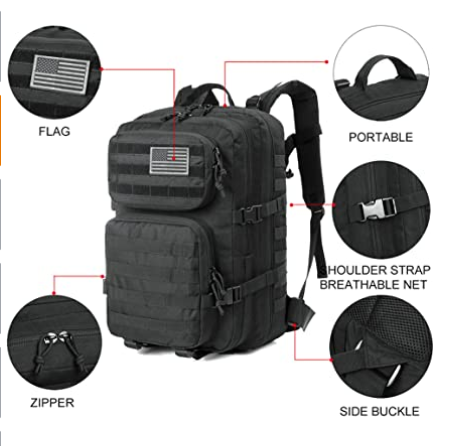 waist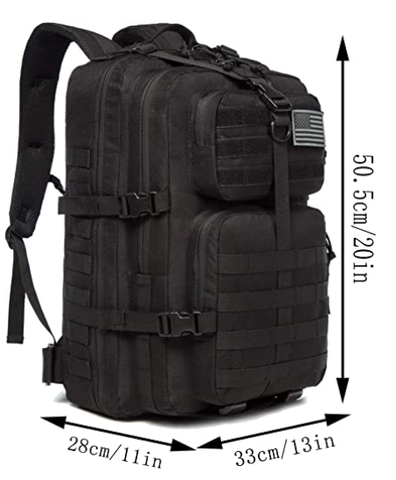 Place of origin: China
Color:2021, black
Style:Military operations
Brand:AUTOKIDS
Water proof grade: Water Resistance
Capacity: 40 liters